Also known as "tear trough filler," under eye filler treatments are non-invasive, performed to minimize dark circles and a sunken, tired look due to thinning skin, aging, or genetics. A quick and straightforward treatment with minimal recovery time, at Allure Esthetic Plastic Surgery in Seattle, you can trust us to perform this delicate procedure with meticulous care.
A dark or sunken under-eye area can make you look older, tired, or exhausted even if you are well-rested. Dark circles can be stubborn, impossible to remove, even with the use of the most expensive creams and serums and makeup. Whether your dark shadows are due to genetics, or a result of aging, under eye filler can smooth the dark circles under your eyes. You may be a candidate for under eye filler if you have any of the following issues:
Dark shadows
Pronounced indentations
Dark circles
Volume loss
Hollowed, sunken eyes
Puffy bags
Looking exhausted even after a good night's sleep
What kind of filler is used?
The under eye area is one of the most challenging areas to treat, and the injections must be extremely precise. The filler used is hyaluronic acid-based, as this gives the most natural-looking results. Hyaluronic acid-based fillers are transparent, causing them to blend naturally into the skin. Since hyaluronic acid is a natural component in the skin, they integrate beneath the skin without worrying about an allergic reaction. Patients are usually delighted with their under eye filler, and at Allure Esthetics, the results often exceed their expectations. But if you wish to reverse your procedure for any reason, hyaluronic acid fillers can be dissolved.
Preparing for your under eye filler treatment
Before you undergo your under eye filler procedure, you will have an in-person consultation where you will be able to ask any questions you may have. Your doctor will also give you all the relevant data, including informing you of any risks involved in the procedure and any aftercare instructions to ensure you get the best possible results. It is very important to us that you are informed and that you feel comfortable about your procedure beforehand.
Avoid alcohol and any blood-thinning agents such as ibuprofen, aspirin and fish oil supplements for a few days before your procedure to minimize the risk of bruising.
Under Eye Filler Before & After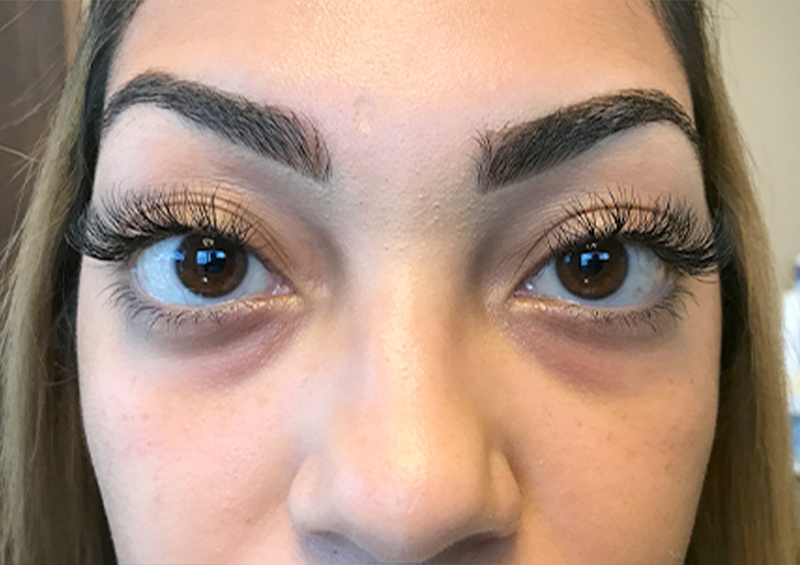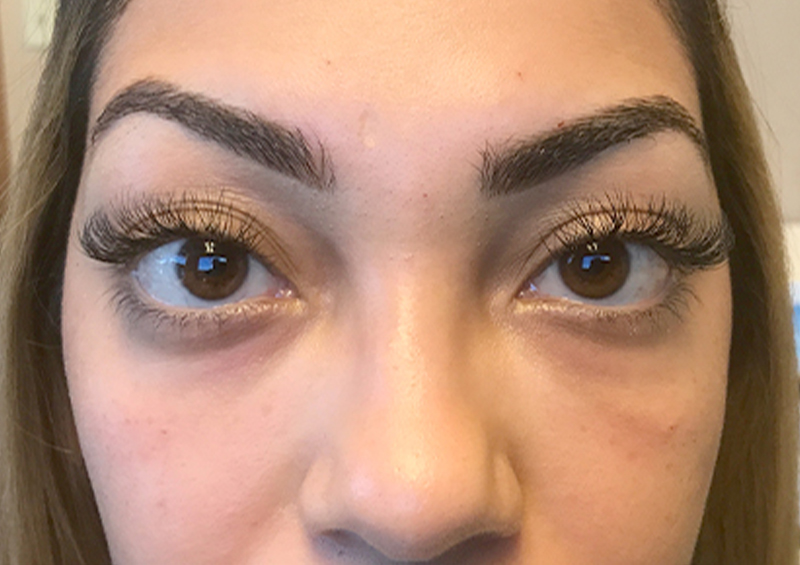 What to expect
On the day of your under eye filler treatment, your doctor will cleanse your skin thoroughly before delicately injecting the filler. You may feel some pain for a few seconds while the filler is being injected. If you prefer, a topical numbing cream can be applied 20 to 30 minutes before to minimize discomfort.
After your procedure, you can return to work and your other regular activities. The application of ice to the area can help prevent swelling or bruising. However, some puffiness or swelling is typical. This side effect clears up within a few days, while bruising may take up to a week or two to fully resolve. To minimize swelling or bruising, avoid rubbing or touching your under eye area, no makeup until the next day, and no vigorous exercise for 24 hours.
You will see the improvement in your appearance immediately, and full results will be visible a few days later after the swelling has gone down. The results are lasting and vary based on the dermal filler used in your case. Touch-ups will be required over time, as your body reabsorbs the filler. The filler may be added gradually in two appointments to achieve the smooth, natural look you envision.
Why should I choose Allure Esthetic Plastic Surgery?
Under eye filler is an extremely precise procedure that requires expertise and proper training. When performed by a qualified professional, the procedure is very safe, and you need a true expert for this delicate enhancement. As a board-certified plastic surgeon who has performed over 1000 procedures, you can rest assured you are in the most competent hands with Dr. Javad Sajan. Dr. Sajan is one of the leading international experts in cosmetic surgery and has all the skills required to achieve the best results for you. If you would like more information, Dr. Sajan and his team would be happy to answer any questions.
Are you tired of looking tired, older, and having dark circles or sunken tear troughs? We invite you to meet with us to find out more about this facial enhancement with fillers – our expert injectors have extraordinary skills, and can help you look refreshed, youthful, and renewed with a custom under eye filler treatment.
Allure

Esthetic Plastic Surgery

(206) 209-0988

Contact our Seattle location in Washington
Send a Message