Underneath your skin is a spotless, smooth complexion waiting to be revealed. As we age, fine lines, wrinkles, uneven skin tone, and discolorations can appear – leaving you looking older than you would prefer. A chemical peel dissolves the upper layers of skin, revealing a radiant new complexion underneath, and resolving many skincare woes. From evening skin tone to stimulating natural collagen production, a chemical peel is a great addition to your skincare routine that produces glowing benefits.
A chemical peel is a non-invasive way to revitalize skin, improving its overall tone and texture. There is a variety of chemical peels available – ranging from light to deep – depending on your skincare needs and condition. These peels are used to treat a myriad of skincare concerns including:
Fine lines and wrinkles
Sun damage (sun spots, age spots)
Acne and related scarring
Uneven skin tone
Blemishes
Dry patches
Pigmentation issues such as hyperpigmentation or uneven pigmentation
Dull skin tone
A chemical peel affects the upper layer of facial skin, removing dead skin cells and other debris than can clog pores and contribute to a lackluster, dull complexion. By removing these cells, a customized chemical peel can breathe new life into your skin and leave you with a glowing, lustrous complexion.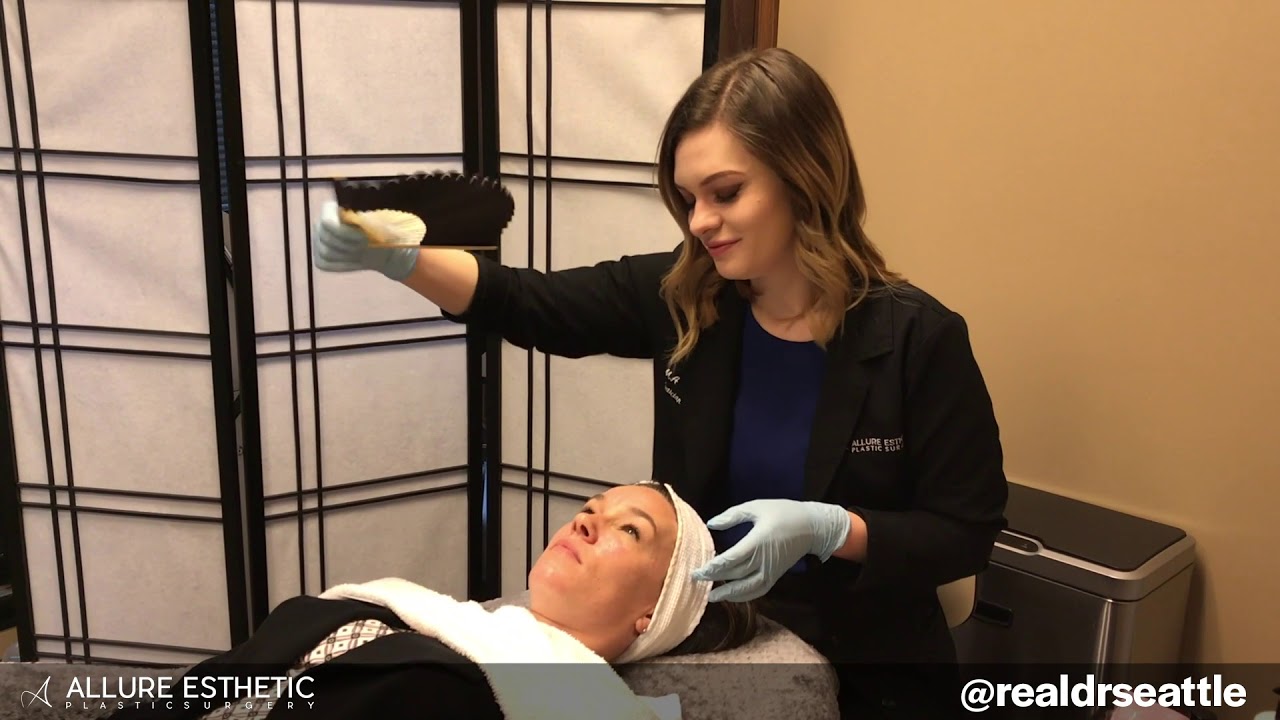 How do Chemical Peels Work?
Chemical peels use various acids to in a chemical solution that is applied to the skin. These acids work to remove the outermost layer of dry, damaged skin, improving skin's overall appearance and texture. The chemicals also work to stimulate the newly revealed skin to produce greater amounts of collagen and elastin, compounds in the skin that improve the skin's tone, texture, and elasticity. Further effects of this stimulation will be visible as the fresh, unblemished surface of your skin is revealed after a chemical peel.
A more youthful
look that lasts
Bellafill is a revolutionary dermal filler that can treat acne scars and smile lines for up to five years. Contact Dr. Sajan's Seattle office today and learn more about what Bellafill can do for you.
Dr. Sajan - Patient
Custom Chemical Peels at Allure Esthetic in Seattle
Chemical peels come in a variety of strengths and are specially designed to meet your own skincare needs. The very lightest peels are mild, made up of an alpha hydroxy such as glycolic acid (which comes from sugar) or beta hydroxy acids such as salicylic acid to exfoliate only the outermost layer of the skin and address acne-producing sebum. These peels can help improve issues with pigmentation, acne, dry skin, and smooth fine lines and wrinkles for a refreshed, healthy look.
Medium level chemical peels go a layer further and can treat visible acne scars, deep wrinkles, and more extensive pigmentation problems by removing deeper layers of the dermis. These peels often use trichloroacetic acid in addition to glycolic acid.
Deep level peels penetrate even further into the dermis to treat scarring, spots, and the deepest of wrinkles and creases. These peels use phenol, a stronger chemical that can dive deep into the layers of the skin. Deep chemical peels often require specialized skincare in the weeks leading up to the peel, as well as a topical anesthetic and sedative during the procedure. While deep chemical peels deliver the deepest, longest-lasting results, they also require more downtime as your skin heels from this more extensive type of exfoliation.
What Should I Expect During a Chemical Peel?
Our medical-grade chemical peels are performed within the comfort of our Seattle clinic to ensure your comfort. The duration of a chemical peel will vary, depending on the depth and type of medical-grade peel used. For light to medium chemical peels, a chemical solution will be applied to the surface of your skin for several minutes before it is removed. No anesthesia will be required for these peels.
Once the peel is applied to your skin, you may experience a light tingling or burning sensation. The amount of tingling you experience will depend largely on the depth of the peel you choose. The process for a chemical peel usually takes less than an hour, and our staff will stay with you through the entire procedure to monitor the product as it does its work.
What is the Recovery like from a Chemical Peel?
All chemical peels are performed on an outpatient basis, so you will be able to rest and recover at your leisure in your own home. The type and depth of the appropriate chemical peel our skincare professionals recommend for your skin issues impacts how long you skin will peel following your office visit. If you experience mild to moderate discomfort in the days following your peel, you can use over-the-counter pain relieving medication such as ibuprofen to provide relief. You may use ice packs or a fan to provide relief from the mild stinging or sensation of sunburn in the early stages of healing.
You can expect your skin to peel for the 3 to 10 days following the procedure. During this time, you will be given specific instructions on how to care for your skin as it heals and restores, and which products to use (and not to use).
With medium to deep chemical peels, you can expect to have some redness and swelling in the days following your chemical peel. It is especially important to use a high, broad-spectrum SPF when you venture out of doors while your skin is recovering.
Results from Chemical Peels
Following a light chemical peel, you will notice an improvement in overall skin tone and texture, as well as a reduction in fine lines. The results from a light chemical peel are more delicate than with deeper peels, and you will notice greater improvement as you have regular, light chemical peels. It's best to keep sun exposure to a minimum in the days following your treatment.
For medium chemical peels, noticeable changes in skin texture can be seen as soon as the skin heals from the peel procedure. You will want to add broad-spectrum SPF to your daily skincare routine as these peels will increase your sensitivity to the sun for a few months following your treatment.
Deep chemical peels will produce a dramatic improvement to all areas of concern in your skin including dark spots, sun spots, lines and wrinkles, acne scars, and uneven texture. It is important to protect your skin with broad-spectrum SPF to prevent permanent damage from the sun's UV rays following any deep chemical peel.
Allure

Esthetic Plastic Surgery

(206) 209-0988

Contact our Seattle location in Washington
Send a Message