Like a modern-day Frankenstein, Dr. Seattle brings dead cadaver fat back to life in his amazing new procedure... the Zombie Non-Surgical Brazilian Butt Lift! This Butt Augmentation procedure combines traditional Non-Surgical BBL techniques with ingredients designed to revive any flat or saggy butt, using the body's own restorative abilities to stimulate fat and collagen production for a fuller, shapelier buttocks.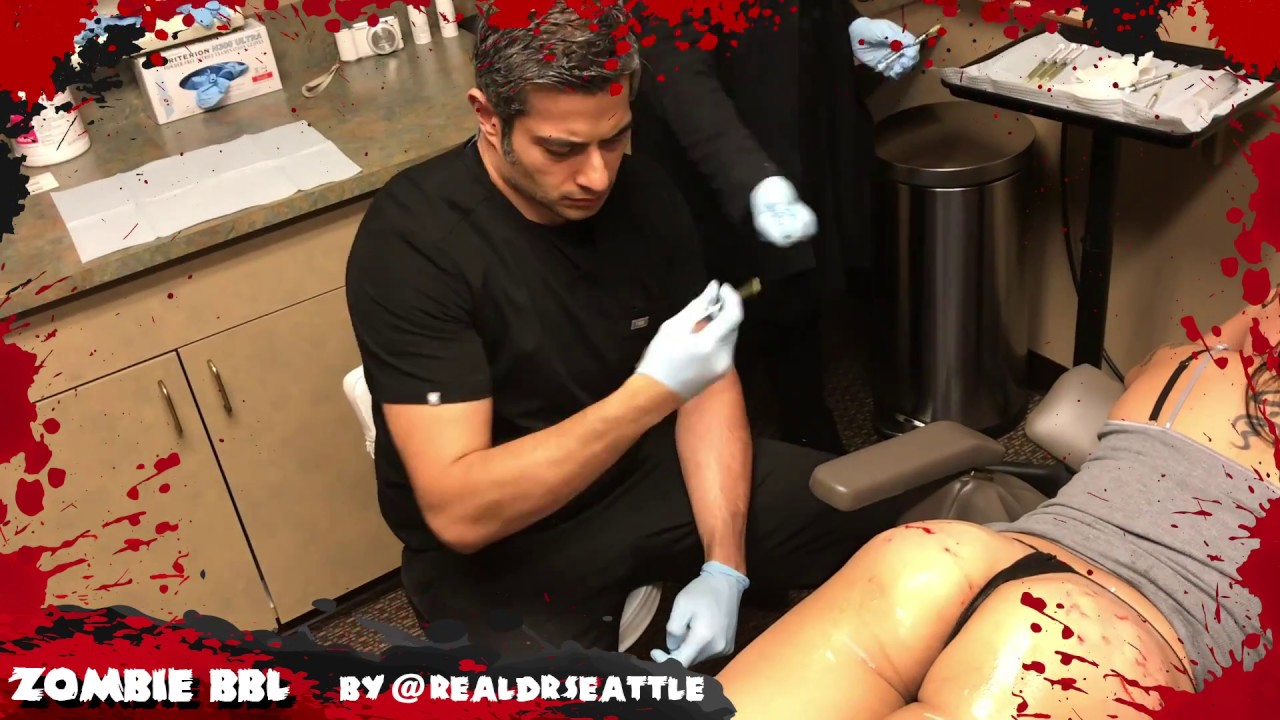 But it sounds scary! Why should I get a Zombie BBL?
Is your booty plagued with cellulite and stretch marks? Does it resemble a pancake booty, or just seem to look flat and saggy under your jeans? If you want a natural, soft looking butt with a smoother, tighter look, Dr. Javad Sajan's own Zombie Non-Surgical Brazilian Butt Lift can help. Whether you want to fill your hip dip, achieve a bubble butt, or transform a square butt into a round butt, this truly Non-Surgical Butt Augmentation can help you achieve your booty goals.
"Unlike other non-surgical butt lifts, the Zombie Non-Surgical BBL is more than just a filler; it actually induces the body to make and retain its own natural volume from fat and collagen," explains Dr. Javad Sajan to his patients. "Most Non-Surgical Brazilian Butt Lift procedures use solely artificial fillers." The Zombie Non-Surgical BBL takes advantage of both artificial and natural ingredients. Our custom formula combines cadaver fat, growth factor cells derived from pig bladders, a minimum of 10 vials of FDA-approved artificial fillers, and human growth factors with growth factors from the patient's own plasma to give a lasting, natural-looking result.
Zombie BBL Before & After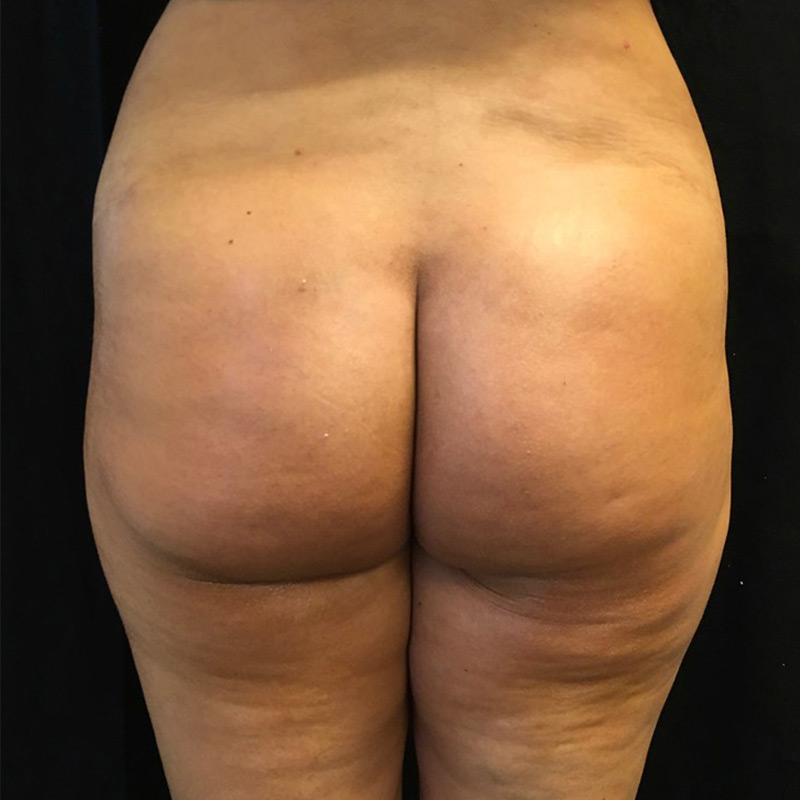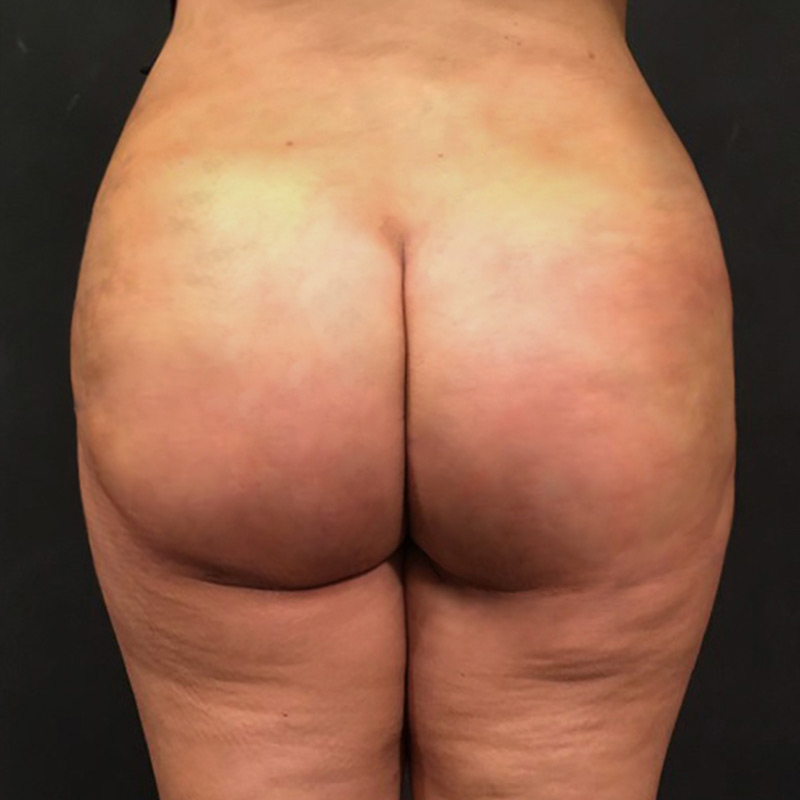 What can I expect during the Non-Surgical BBL Procedure?
During the entire procedure, you will be wide-awake. We provide our Zombie Non-Surgical Butt Augmentation patients the option to take oral medicines in office for decreased pain. After any medication is administered, we numb the injection site for 45 minutes using our proprietary topical numbing solution. Dr. Sajan marks the area to be injected based on the patient's desired results, and injects the cadaver fat injection mix accordingly. To minimize the risks and complications, Dr. Sajan has found it is best to use injection techniques that place the filler both in and above the gluteal muscle.
A Quick Recovery? Of Corpse!
When Dr. Seattle performs a Zombie Non-Surgical BBL, there is minimal downtime and an easy recovery process. He requests that Zombie BBL patients do not sit on the buttocks for 24 hours post-injection. Also, hand massages should be administered to the patient's buttocks using the 3x3x3 Rule: the area should be gently massaged for three minutes, three times per day for three weeks by either themselves or a caretaker.
What Booty Size can I achieve?
Immediately following the injections, there will be a visible enlargement in the buttocks. Abra-cadaver, your bubble butt is poppin'! After a few days there may be a slight volume decrease as the fillers settle and your swelling from the injections is reduced. After a few weeks, though, the body's natural cells are stimulated by the injections, and should begin to produce additional fat cells and collagen cells. At 8-weeks post-procedure, the final shape is visible.
Since a Zombie Non-Surgical Brazilian Butt Lift activates the patients' own body, and causes it to create more natural volume, results are likely to be very long-lasting. While they may last for several years, the results will age with your body and may change over time. When considering a Zombie Non-Surgical Butt Lift, it is important to understand that every patient's body is different. Factors such as metabolism, age, activity level, sitting habits, and health contribute to the results.
Pricing:
Zombie Non-Surgical BBL pricing is based on the targeted immediate enhancement percentage. It is the amount of volume Dr. Seattle will aim to add by the end of the procedure.
Medium enhancement starts at $6,000 (immediate 20-35% enhancement)
Large enhancement starts at $9,000 (immediate 30-45% enhancement)
Extra-large enhancement starts at $12,000+ (attempted immediate 40+% enhancement)
Consult with Dr. Seattle for your Zombie Non-Surgical BBL
If you are unable to achieve the surgical Brazilian Butt lift results you desire because there is not enough fat to harvest, perhaps Cadaver Fat is the next step. The Zombie Non-Surgical Brazilian Butt Lift adds volume and encourages your body to produce more of its own fat and collagen cells in the injected areas, including the hips, outer thighs, or buttocks.
To improve the appearance of cellulite on the butt, fill your hip dips, make your skin look tighter naturally with enhanced collagen production, or reduce the surface appearance of dimples or stretch marks, call Allure Esthetic today to learn more about the Zombie Non-Surgical Brazilian Butt Lift procedure.
Testimonials
"If I could do it all over again, I would!"
"I love my results; I have a brand new body, and a whole new level of confidence."
"The procedure wasn't painful at all; Dr. Sajan checked in with me frequently and once the numbing completely kicked in, I couldn't feel anything"
"I literally came home and kept twerking in the mirror"
"Going into the procedure, I was so nervous, but once I laid down for the procedure he made me feel very comfortable"
"He talked me through it the whole time, reassuring me of all the steps taken"
Allure

Esthetic Plastic Surgery

(206) 209-0988

Contact our Seattle location in Washington
Send a Message