What Does Capsular Contracture Feel Like?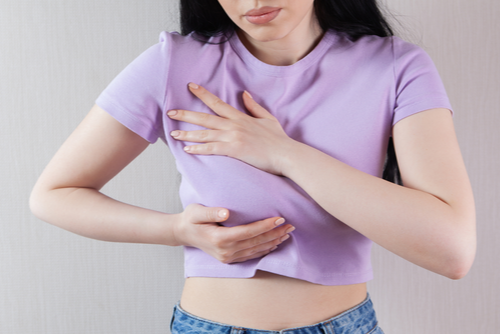 Capsular contracture is a complication of breast augmentation where the scar tissue around the implant hardens, or where too much scar tissue forms. It is not always evident and having some amount of scar tissue around the implants is perfectly normal. However, if there is pain, tenderness, or major changes in the look or feel of the breast, especially more than one year out, capsular contracture may be present. Let's take a look at the question, "What does capsular contracture feel like?'
Often, patients with lower grades of capsular contracture may have no symptoms or pain at all. If this is the case, it can likely be monitored and left alone, unless it becomes a larger problem. However, in higher grades of capsular contracture, patients may feel breast pain and their breasts may feel more tender.
While, normally, it is not overly painful, in severe cases it can be. Along with this, patients may notice that one or both of the breasts become malpositioned. This can cause discomfort as well when wearing clothing. If you are experiencing breast pain and have breast implants, it is worth being evaluated for capsular contracture.
Overall, capsular contracture is fairly rare, and severe cases are even rarer. The complication is most likely to occur in women who have had their implants under five years. To learn more, call us at 206-209-0988. You can also reach out online via Price Simulator, chat, or contact form.